Solution-Focused Coaching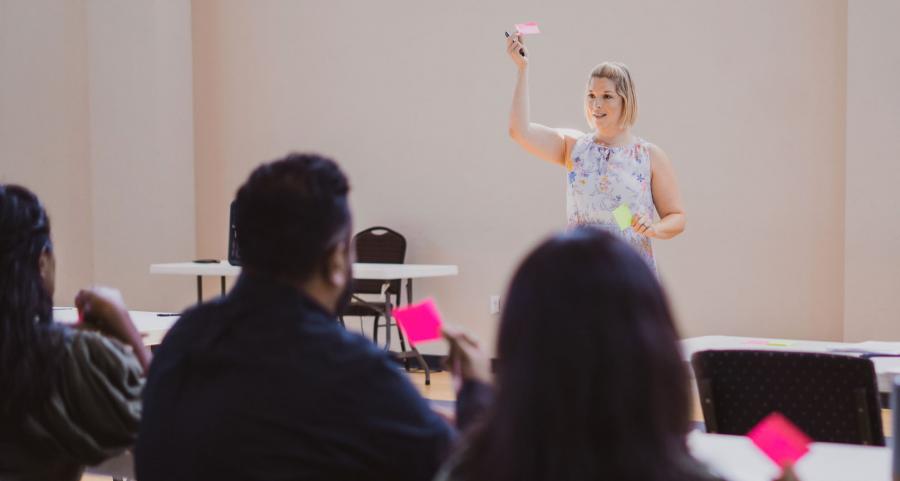 Training on solution-focused coaching is available for: 
Solution-Focused Leadership, a Productive Path Forward for Leaders Within Organizations
Improve your effectiveness as a leader by learning to lead conversations and meetings in a way that produces actionable results. Solution-focused strategies and techniques create incremental changes that lead to sustainable employee and organizational growth. When someone comes to you with a problem, do they describe it in detail and then look to you for guidance on how to move forward? Have you felt pressure to solve the problem for them? Do you want to learn strategies to develop a more collaborative relationship that moves towards growth?
This training will offer skills, strategies and techniques that will lead your team members to find solutions by building on strengths and resources, rather than focusing on deep problem analysis and barriers to solutions. It will help you work with those at all levels of your organization, from front-line staff, to supervisors, to board members, to identify paths to how things will work within your organization when it is at its best, rather than continuing to complain about the challenges at hand. Solution-focused techniques can be used when establishing relationships with outside organizations and community partners. These techniques can help identify common goals and come to constructive conclusions, even when groups are approaching issues from a different perspective. When individuals and organizations believe they have the resources and the strengths to begin to make small changes, it will result in bigger change.  Lead your teams to envision the outcomes they want to achieve. Solution-focused coaching can allow leaders and service providers to help individuals find useful paths to actionable steps that work toward achieving their goals.
Who can benefit from Solution Focused Coaching training?:
Executives
Supervisors
Managers
Directors
Administrators
Community organizers and advocates
Learn more: Please contact Amberly Prykhodko at aprykhodko@fsu.edu for an individualized quote.
______________________________________________
Solution-Focused Coaching for Teams
Once you've completed the Solution-Focused Coaching leadership training and have begun to implement what you've learned, let us bring this information to your entire team. We can train your entire organization to have conversations that lead to positive transformation with their supervisors, colleagues, clients, and community partners. This training is beneficial for anyone who regularly has challenging conversations within or outside of your organization.
______________________________________________
Solution-Focused Coaching for Reentry Service Providers 
Solution-focused coaching can be utilized by reentry service providers to support returning citizens as they reconnect with their communities post-incarceration. This method allows individuals to find motivation because they not only begin to see beyond their current challenges, but they can identify real steps to take to move forward.
Principles of solution-focused coaching can be utilized to help individuals set and achieve goals. This empowering approach can help individuals identify their own solutions as they develop and enhance skills that lead to sustainable improvement in well-being. These techniques provide a framework for having productive conversations that help individuals develop thinking patterns that can move them towards their goals.
This training will dive deep into skills and techniques that can help reentry providers utilize solution-focused coaching to highlight strengths, help returning citizens create their own employment and personal goals and take concrete steps towards accomplishing these goals. This technique will remove pressure from reentry providers to provide all the answers to difficult problems. It will help those returning home after incarceration feel empowered by their own strengths and resources as they begin to develop aspirations towards their preferred future and small changes that will make a path to get there. 
Learn more: Please contact Amberly Prykhodko at aprykhodko@fsu.edu for an individualized quote.