Partner with Us
title-inside title-centered
2
Who is the Institute for Justice Research and Development?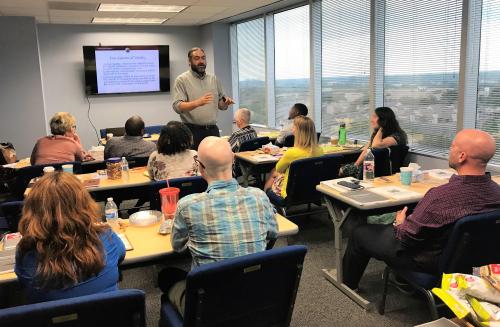 IJRD is a research center housed in the College of Social Work at the preeminent Florida State University, dedicated to catalyzing the rapid translation of research findings into practice to bridge the 17-year implementation gap between scientific discovery and changes to policy and practice. Our team of experts has decades of experience in both Criminal Justice and Social Work and together, we have published hundreds of academic papers on data-driven solutions to criminal justice reforms. We rapidly disseminate research findings to academic audiences, correctional stakeholders, practitioners, policymakers, and the public to ensure that our data-driven solutions change policy and practice in real-time.
What do we offer?
Professional Training.

IJRD trainers provide knowledge and expertise to create and facilitate customized trainings for your organization. We will work with you to provide your staff with valuable skills and information that will help your organization to accomplish its' goals. Trainings provide valuable career development and continuing education units for social workers.

Consulting.

Our expert consultants can help amplify your organization's functioning by providing expert guidance on funding and grant applications, identifying evidence-based programs, developing novel programs to meet the needs of your organization, and helping you to hire, promote, and retain second chance workers. Our active collaborations with a national network of criminal justice professionals including law enforcement, prosecutors, community providers, correctional stakeholders, and justice-system impacted individuals fuel our expertise. All consulting services are tailored to meet your needs and goals.

Program Evaluation.

Our team can help you to evaluate the effectiveness of your existing programs and initiatives to ensure that the services you deliver achieve your desired outcomes. We also provide coaching on how to enhance your existing programs and conduct your own internal program evaluations. We have decades of experience working with a range of correctional, non-profit, and private agency stakeholders to optimize their programs.
The IJRD Difference
IJRD trailblazes the scientific discovery of solutions to some of society's greatest challenges. We rapidly develop state-of-the-art practices and ensure that they instantly make it into the hands of the policymakers, practitoners, and advocates who need them most.
Our National Expertise:
Law Enforcement, Prosecution, Courts, Jails & Prisons
Mental Health & Substance Use Disorders, including Opioid Use Disorders
Trauma & Trauma-Informed Care
Reentry Trajectories, Employment Well-Being & Social Support
Professional Development, Program Evaluations & Training Certifications
Corrections & Criminal Justice Employee Well-Being