Partner with Us
title-inside title-centered
2
Who is the Institute for Justice Research and Development?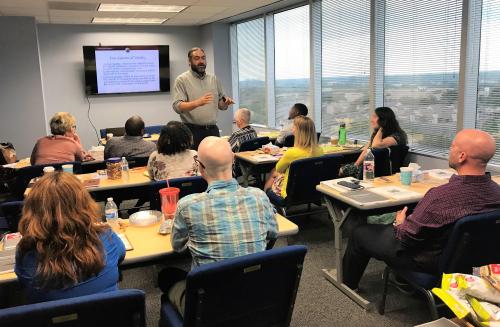 IJRD's mission is to use science to improve lives, communities, and institutions by developing and researching innovations that reduce unnecessary reliance on the criminal justice system and by offering solutions that produce equity and prosperity across race, socioeconomic class, and behavioral health status. IJRD does research examining experiences across the criminal justice system in totality. Starting from an individuals' first law enforcement contact, to reentry and stabilization into the community – IJRD offers stakeholders - including law enforcement, prosecutors, judges, corrections professionals, service providers, justice-involved individuals, and policymakers - the comprehensive scientific research needed to take informed data-driven actions to generate and implement criminal justice reform solutions.
IJRD also offers a wide range of scalable services, from early intervention treatment programs to reentry services for individuals impacted by the criminal justice system. Additionally, IJRD offers trainings and toolkits for those working within the criminal justice system to ensure the proper supports are in place, so they are able to carry out their duties safely and effectively.
IJRD drives institutional and community change by:
Offering data-driven solutions to stakeholders rapidly as scientific discoveries emerge
Creating and delivering state-of-the art and scalable service and treatment models in criminal justice and community-based settings
What do we offer?
Professional Training.

IJRD trainers provide knowledge and expertise to create and facilitate customized trainings for your organization. We will work with you to provide your staff with valuable skills and information that will help your organization to accomplish its' goals. Trainings provide valuable career development for a wide range of professionals who work within the criminal justice system or with criminal justice system-involved individuals and families. Our most requested trainings focus on building resiliency among those who witness violence and suffering on the job and exploring the impact of post-traumatic stress on workers and the justice-involved individuals and families with whom they work. Online, self-paced trainings are coming soon!

Continuing Education.

Our professional educators provide continuing education to amplify individuals' performance and effectiveness. We work with the entire range of criminal justice professionals, including law enforcement officers, correctional officers, public defenders, prosecutors, case managers, mental health professionals, and probation and parole officers, to translate our research and expertise into practical skills and knowledge that can be applied in the work environment. Online, self-paced continuing education courses are coming soon!
Program Evaluation.

Our trained professional evaluators implement program evaluations to ensure that your organization's programs and services are effective and meet the needs of the individuals with whome you work. We provide guidance on how to optimize your programs, offer individualized coaching for agencies on how to select evidence-based, and can help continue to evaluate programs to ensure their effectiveness.

Consulting.

Our expert consultants amplify your organization's work through personalized consulting services tailored to help you meet your mission and goals. We bring our collective decades of experience in clinical, community, and academic research settings to collaborate with stakeholders to develop programs using the most up-to-date, evidence-based solutions.

Clinical services.

We identify and research treatments most likely to have a positive impact on both justice-involved individuals and the behavioral health workers, law enforcement officers, and other criminal justice stakeholders who work with them every day. Our team of experts can help you select and implement clinical intervention services to meet the needs of your clients and amplify the mission of your organization.
Our National Expertise:
Law Enforcement, Prosecution, Courts, Jails & Prisons
Mental Health & Substance Use Disorders, including Opioid Use Disorders
Trauma & Trauma-Informed Care
Reentry Trajectories, Employment Well-Being & Social Support
Professional Development, Program Evaluations & Training Certifications
Corrections & Criminal Justice Employee Well-Being