Pathfinders
title-inside title-centered
2
The Pathfinders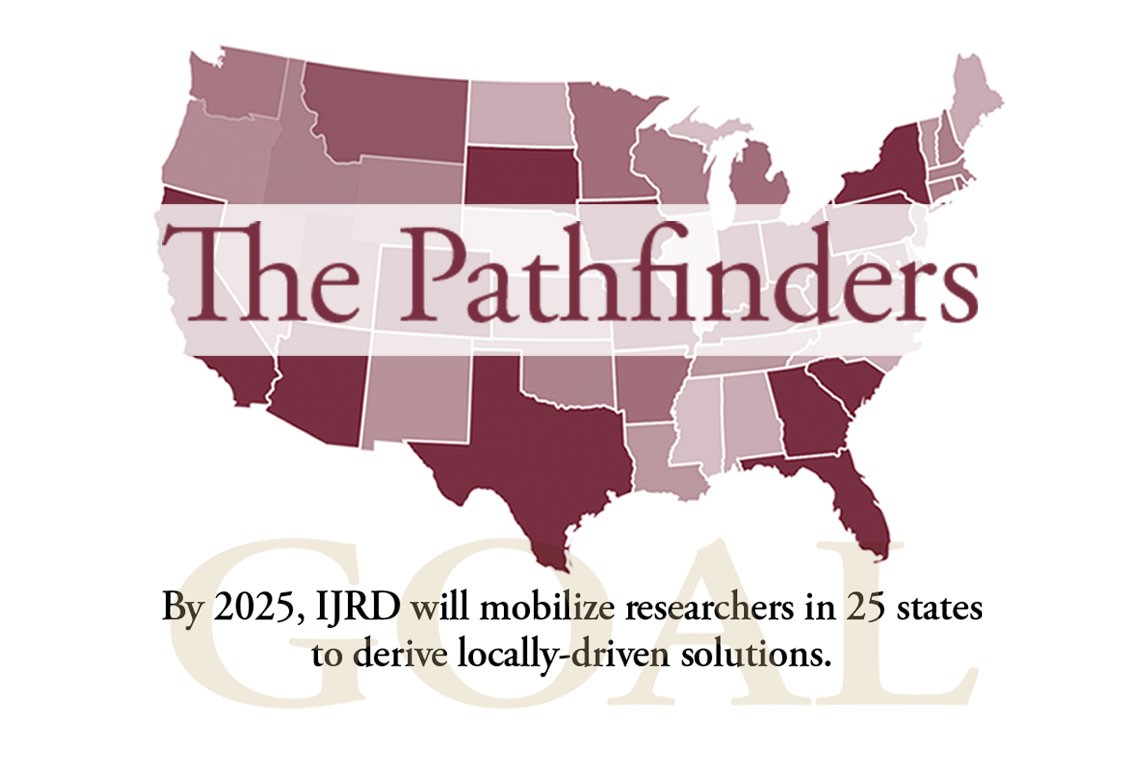 IJRD is a team of passionate innovators and social scientists. Through creativity and research, we are re-envisioning a country with a dramatically reduced need for the criminal justice system. Whether you find us in prison, on the Senate floor, or researching in the community, you will find us confronting challenges and offering data-driven solutions to make a difference in the lives of others. We are the translators who convert research into actionable toolkits. We stand against quick fixes and empty promises that do not result in enduring change. We are the thought leaders that bring together the greatest minds across the sciences to build equitable solutions that elevate the capacity of individuals and communities to thrive.
Goal:
The Pathfinders is a group of supporters who make sure that IJRD's research creates real and lasting change throughout the country by ensuring that there is a physical presence of research teams in each State. The Pathfinders activate the hiring of three researchers in each state: a strategist, a data generator, and a coach. The strategist identifies policy and community partnerships and manages the change plan for the state. The data generator conducts the research needed to localize solutions to criminal justice reform. The coach works with policymakers, community partners, and justice-involved individuals on how to enact change based on the research. By joining the Pathfinders you are ensuring that together, we achieve our impact goal related to scaling our model nationally.
By 2025, IJRD will mobilize researchers in 25 states to derive locally-driven solutions.
By end of 2021, expand from 7 states to 11 states
By end of 2022, expand from 11 states to 15 states
By end of 2023, expand from 15 states to 20 states
By end of 2024, expand from 20 states to 25 states
By end of 2025, research teams in 25 states are generating data-driven solutions that reduce the need for the criminal justice system in those states
We know we have achieved success on this measure when 25 states are implementing local solutions to criminal justice reform. Because criminal justice reform is ultimately local, success will look different in every state. Therefore, we will use the Research-Practice-Policy Feedback Loop Framework to monitor and document success. This framework allows us to generate solutions and assess their adoption and impact.
How you can help:
By joining the Pathfinders, you help us to ensure IJRD's research is adopted widely and systematically. State by state, we will make seismic shifts in our criminal justice system. Would you join us in working to generate research that will dramatically reduce our country's reliance on the criminal justice system and improve lives and create thriving communities?
Please reach out to Dr. Kerensa Lockwood klockwood@fsu.edu or (850) 644-4753 to schedule a time to learn more about how your philanthropic priorities align with the impact we can achieve together.