Proclaimers
title-inside title-centered
2
The Proclaimers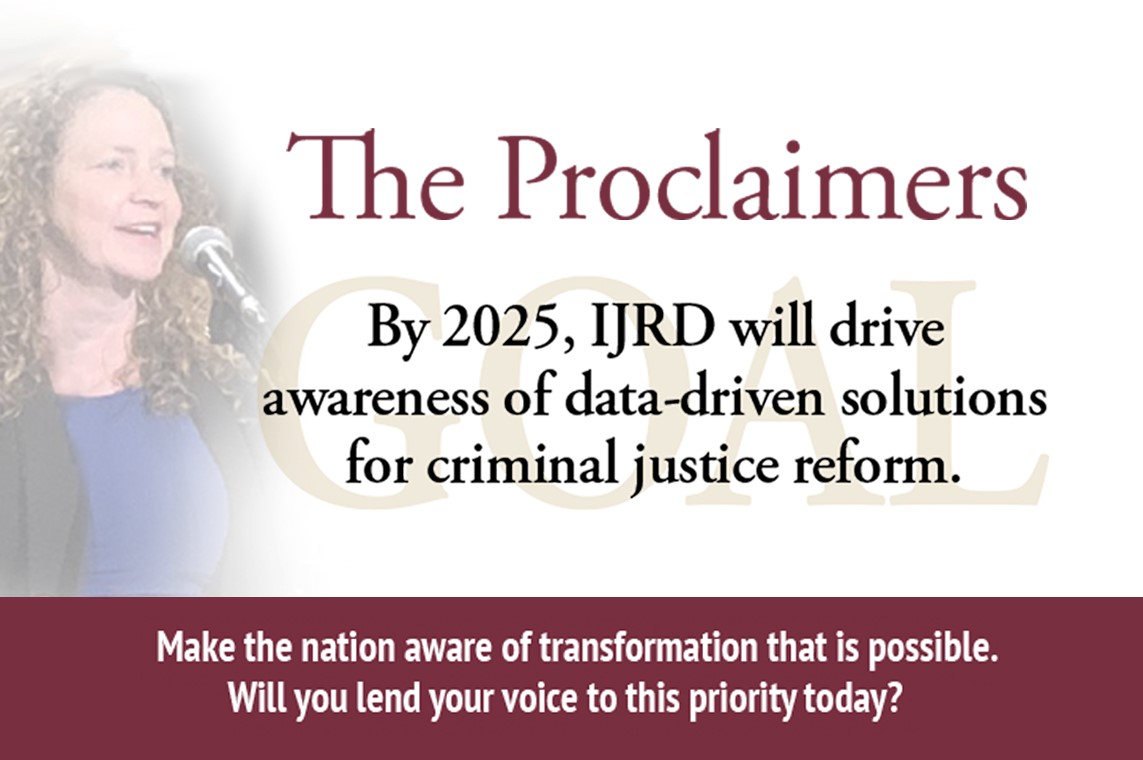 IJRD is a team of passionate innovators and social scientists. Through creativity and research, we are re-envisioning a country with a dramatically reduced need for the criminal justice system. Whether you find us in prison, on the Senate floor, or researching in the community, you will find us confronting challenges and offering data-driven solutions to make a difference in the lives of others. We are the translators who convert research into actionable toolkits. We stand against quick fixes and empty promises that do not result in enduring change. We are the thought leaders that bring together the greatest minds across the sciences to build equitable solutions that elevate the capacity of individuals and communities to thrive.
Goal:
The Proclaimers is a group of supporters dedicated to amplifying solutions for criminal justice reform. In order to spark change, the Proclaimers provide a megaphone to the voices of people who IJRD's research is about. By joining the Proclaimers, you are helping us advance our impact goal related to implementation.
By 2025, IJRD will drive awareness of data-driven solutions for criminal justice reform.
We know we have achieved this goal when we become a household name in our field because of the valuable resources we provide to decision-makers. We aim to increase our dissemination activities to changemakers.
For example, since January 2018, we drove awareness by disseminating approximately 500:
Research Reports
Policy Toolkits
Community Partner implementation guides
Academic Papers
Speaking events
Media coverage
To expand reach, we will create a data-driven solutions podcast and public service announcements designed to activate changemakers who will implement our research.
How you can help:
The Proclaimers join us in ensuring that our research is applied. They support the work of improving the lives of those impacted by the criminal justice system and create thriving communities. They make the nation aware of transformation that is possible. Will you lend your voice to this priority today?
Please reach out to Dr. Kerensa Lockwood klockwood@fsu.edu or (850) 644-4753 to schedule a time to learn more about how your philanthropic priorities align with the impact we can achieve together.